This page is outdated because it has not been updated since the media blackout ended.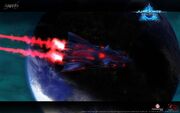 Conflux presence within JGE is confirmed, Conflux hostility is confirmed, however, what is still unclear is the purpose and goals of the alien menace.
What has been revealed are Conflux-Infested sectors, where the alien biomass has attached to and grown over existing wreckage and/or asteroids. This biomass grows to eventually produce an infestation referred to so far as 'Conflux Base'. Such bases contain a vulnerable 'heart', although before attacks can penetrate the heart, outer defences and 'turrets' must be dispatched and a route within the infestation must be pioneered by a suitable number of pilots. and ships.